More Information
Bauerfeind SacroLoc Back Brace
Product Benefits:
Choose the Bauerfeind SacroLoc Back Brace if you want to live pain free again, as this back brace stabilizes the pelvis and lower back to soothe pain relief in the sacroiliac and pelvis area!
The two-part viscoelastic cushion pads massage targeted trigger points around the sacroiliac joints during movement to help you to heal smoothly
Soft and breathable knit material ensures circulation to the skin, which provides a cooling effect that keeps sweat away from your body
SacroLoc conforms to your body shape as the soft edges and the anatomical shape guarantee a secure hold, and offers a high degree of wearing comfort
The orthosis's elastic mesh material and adjustable tensioning straps straighten the pelvis, which relieves the local ligaments
Is ideal to wear during pre and post pregnancy to alleviate the sciatic nerve pain as your baby shifts and provide extra support
Product Details:
Color: Titan (Gray) Only - As shown in above images 
Stabilizes and straightens the pelvis
Relieves pressure on the sacroiliac joints and local ligaments
Releases muscle tension
Low-profile for easy application 
Higher compliance for effective and sustainable therapy
Can be worn under clothing
Comes in 7 Sizes 
Made in Germany 
Specifications: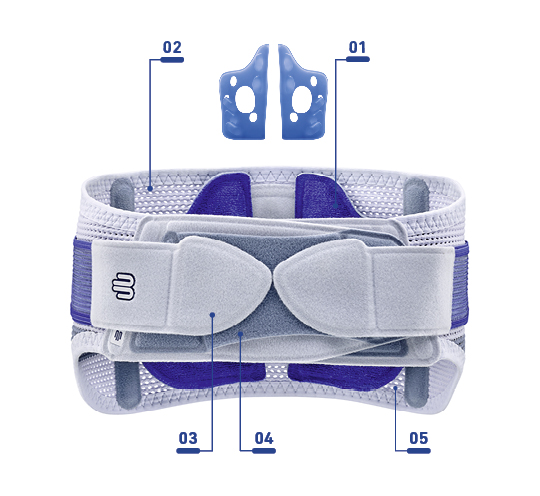 1.  Provides targeted pain relief using two friction pads on the sacroiliac joints
2.  Anatomically shaped to provide a perfect fit during movement as it is made out of an elastic mesh material
3.  Immediate relief for the pelvis and sacroiliac joints as a result of circular compression using individually adjustable tensioning straps
4.  Easy to put on with the velcro fastening with wide finger loops
5.  Exceptional level of wearing comfort, thanks to the breathable mesh materials and low-profile fastening with soft edges
6. SI (Sacroiliac) Joint Blockage, Arthrosis, Syndrome
Treatment / Prevention of the Following Injures:
Myalgia and Tendopathia in Pelvic Region
Pelvic Ring Instability
Structural Disturbance following Lumbar Spinal Fusion
Prophylaxis of Relapsing IS Joint Blockages and Myotendopathia
Symphysis Rupture and Relaxation
Alleviate Pain Caused by Sitting or Standing 
Provide Stability for More Mobilization
How to Measure:
Measure the circumference of your pelvis (just below your waist) while standing.
(If you are in between two sizes, choose the smaller size)
Sizing Chart:
| | |
| --- | --- |
| Size | Circumference (Inches) |
| 1 | 27½ - 31½ |
| 2 | 31½ - 35½ |
| 3 | 35½ - 39¼ |
| 4 | 39¼ - 43¼ |
| 5 | 43¼ - 47¼ |
| 6 | 47¼ - 51¼ |
| 7 | 51¼ - 55 |